We have the equipment and experience to locate even the toughest water leaks
A water leak in your home may be simple with a quick fix, or it may be one that causes extensive damage. No matter the severity of the leak, it needs to be repaired. Homeowners should never leave a leak untreated because the end result could be severe and costly damage to your home. The team at Kelly Plumbing Company offers effective and efficient water leak repair services. We can find even the trickiest of leaks and repair them. Our team will carefully and thoroughly search for the source of the leak and will then fix it before it causes any more damage.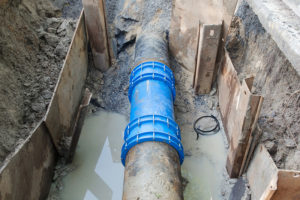 At Kelly Plumbing Company, we use only the best technology to determine the source of the leak. Our team also utilizes innovative methods that can detect leaks that are underground, such as sewer lines, water pipelines, and drains. Once we've found the leak's location, we begin to develop a solution to repair it. Whether it's a simple plumbing leak or a slab leak- we will successfully correct it so it won't cause you any more trouble.
Hazards Of Untreated Water Leaks
Untreated water leaks may only pose a minor threat on the surface but can have some longstanding unwanted effects. The water leak could potentially cause significant damage to your valuables and property, which can be devastating. Also, a water leak that doesn't get repaired in time can become a breeding ground for mold, mildew, and germs. These issues can cause potential health and breathing problems for whoever is living in the home.
Whether the leak is extensive or minor, you can count on Kelly Plumbing Company to get the job done right the first time. To schedule an appointment, give us a call at (214) 229-8249.